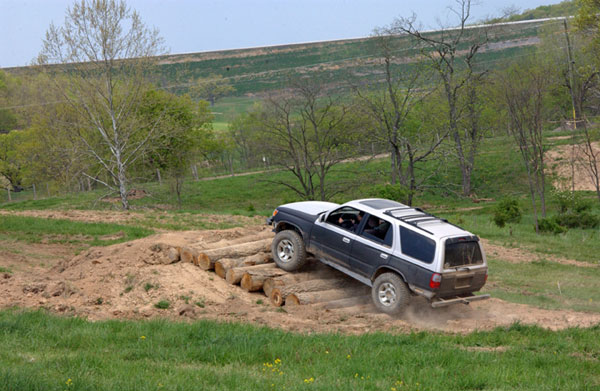 The Off-Road Driving course is designed to give students the tools necessary to confidently operate a vehicle on various types of road surfaces and under a number of different conditions. This course also prepares students for emergency situations by demonstrating the correct and most effective ways to recover a vehicle that has been stuck due to road or weather conditions, and how to properly use the necessary tools for off-road vehicle recovery. This course is divided into two parts: Classroom Instruction and Hands-On Training Exercises.
This course is designed to improve the off-road driving skills of a person with any level of driving experience. Whether you are a young driver wanting to prepare for an emergency situation that might occur in the future, or if you have decades of driving experience and want to enhance your off-road driving skills, this class has something for everyone.
Throughout this course, our highly trained and qualified team of instructors will provide students with a fundamental knowledge of various types of terrain and driving surfaces including things like dirt, gravel, grass, packed clay, rocks, hills, and unexpected turns, as well as steep ascents, descents, and elevation shifts. Our instructors will then demonstrate how to properly maneuver a vehicle over each of these road surfaces before the students get the chance to practice behind the wheel in the hands-on portion of the class, where they put into practice the theories that they have learned in the classroom. Driving technique is incredibly important in off-road driving because a driver can never know exactly what to expect when facing these types of terrain. Our instructors understand that, and. spend time teaching each student tips, tricks, and the proper techniques necessary in successfully navigating these types of road surfaces.
what to expect
While we can't plan for everything that you might encounter in an off-road driving situation, we can help prepare you for how to handle the possible obstacles you might face, and how to do so effectively. Throughout this 8-hour course, students can expect to split their time between classroom instruction and hands-on training exercises with our experienced instructors. We believe in the importance of practicing scenarios in a realistic setting by participating in real-time hands-on exercises where the student is in the driver's seat. Students are always accompanied by an instructor who will coach them through each exercise from the passenger seat.
While in the vehicle with our instructors, students can expect to put into practice the theories that they learned in the classroom, by focusing on several areas that will help improve and enhance their off-road and unimproved road driving skills. These areas include:
Maximizing Control on Unimproved Roads (gravel, dirt, grass, packed clay, etc.)
Maximizing Maneuverability on Off-Road Terrain
Total Vehicle Control
How to Avoid Obstacles (holes, ditches, tree stumps, large rocks or boulders, etc.)
Extreme Ascent / Descent
Extreme Elevation Changes
Brake/Throttle Management
Vehicle Recovery Methods
Vehicle Recovery Tools Instruction
With our combined decades of experience, a wealth of knowledge and unparalleled training, our team of instructors will use their real-world experience to help prepare you for the scenarios you are likely to face when driving off-road or on unimproved roads.
qualifications
cost